Broadband Money's mapping system incorporates a vast, growing number of datasets to help you better understand your territory. With essential insights on network performance, competition, towers, anchor institutions and demographics, gain a multi-faceted view of your geographic area in order to:
Pinpoint unserved and underserved communities
Research and gather sufficient, holistic evidence to support your challenge process
Identify key stakeholders for collaboration
In this lesson, learn how to create a project area – an essential step to start engaging meaningfully with the vast amounts of data supplied.
A project area is an area of interest you define, which typically consists of designated "high-likelihood" of unserved and underserved communities. Use Broadband.money's mapping system to create, tag and research areas of interest, so you can get detailed insights and analyses such as the number unserved and underserved demand points, community anchor institutions and estimated yield on costs.
To start, give your project area a name, and add a tag to the area if you wish.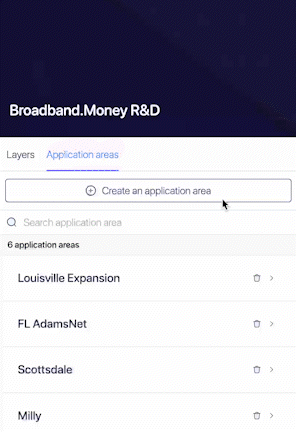 Next, start defining the precise boundaries of your project area using any of the three methods below:
1. Draw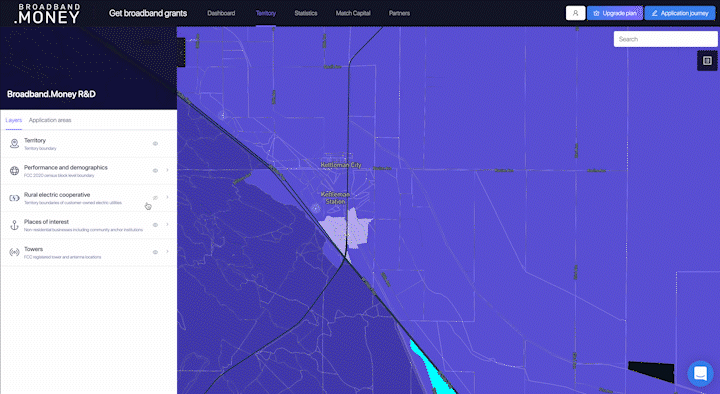 Use the draw tool to define freehand an exact area of interest on the map. Double click the last or first point in order to close the drawn shape. Using the drawing tool is recommended if you need address or household-level precision when defining your project area boundaries.
💡 Tip: You can toggle the visibility of the census layer to get a clearer view of map features, such as road and parcel boundaries.
2. Upload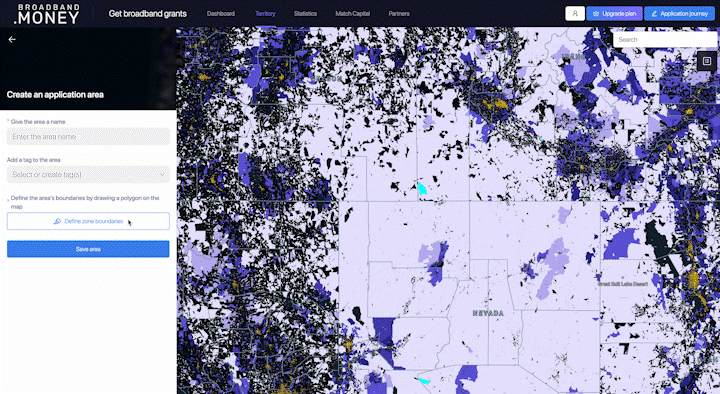 Already have a shapefile on hand? Upload any .kml, .kml, .geojson or .json file directly to create a project area. The geometry type must be a Polygon, MultiPolygon, MultiLineString or LineString.
💡 Tip: Make sure the shapefile uses the EPSG:4326 - WGS 84 coordinate system
3. Select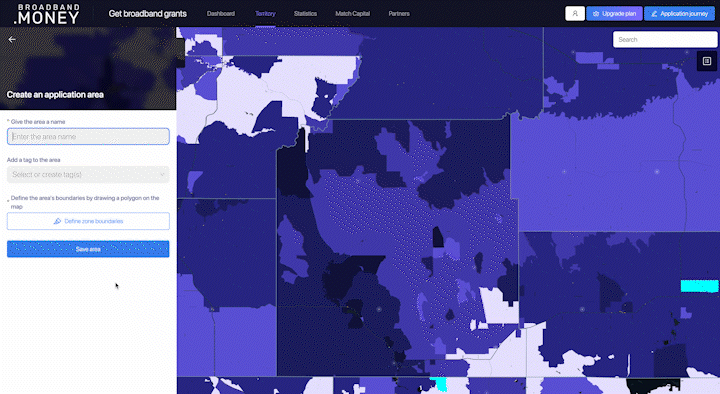 For large county-level project areas, easily select from our library of county shapefiles directly from the Census Bureau's geographic database.
💡 Tip: Type the county name in the dropdown to filter the list
Don't forget, you can combine methods multiple times to create your project area.
As you start defining multiple project area boundaries, check out the summary statistics tab to view an analysis of key project metrics, such as total number of census blocks, households and housing units. When complete, please save the area, and you're ready to start analyzing project insights.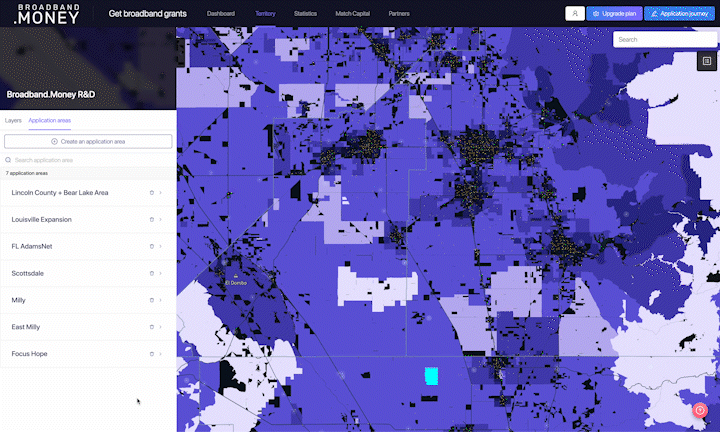 Select your created project area for an overall analysis of the area. Easily compare and contrast project areas in the statistics page. Gain a deeper understanding of your project areas with more detailed metrics such as current provider coverage, list of commercial businesses, community anchor institutions and more. Later, you'll be able to attach specific project areas to your application model to automatically generate grant application answers.