Need a Broadband Audit? Get it here.
A Broadband Audit enables communities/governments/internet service providers etc to accurately understand their actual broadband needs. It helps to determine where broadband grant funding and investment should flow. The goal of conducting a broadband audit is to maximize the quality and availability of broadband in a given area.
It is made by compiling statistically sound analyses and reports on an area's broadband coverage, broadband quality, demographic information, location of anchor institutions, provider coverage, and more. The compilation of all this data creates a comprehensive report about the current broadband ground reality of a given area. The Broadband Audit is also the crucial first step in the creation of a Broadband Feasibility Study.
The Infrastructure Investment and Jobs Act's Broadband, Equity and Access and Deployment's (BEAD) funding program is tied to the concept of the number of broadband serviceable locations and network performance. So it's crucial that local government leaders and broadband advocates have a precise understanding of the kind of the connectivity needs of their communities.
In that endeavor, Broadband.money has compiled Broadband Audits for every single state, city, county, and tribal area in the United States. By making this information freely accessible, we can work to improve the broadband ground reality across the United States.
Furthermore, Broadband.money provides local leaders like mayors, county executives, broadband community champions, and service providers a community broadband kit to conduct their own comprehensive Broadband Audits to gather real-time performance and qualitative survey data from their communities so that they can better understand how to improve their community's broadband access, service, and quality.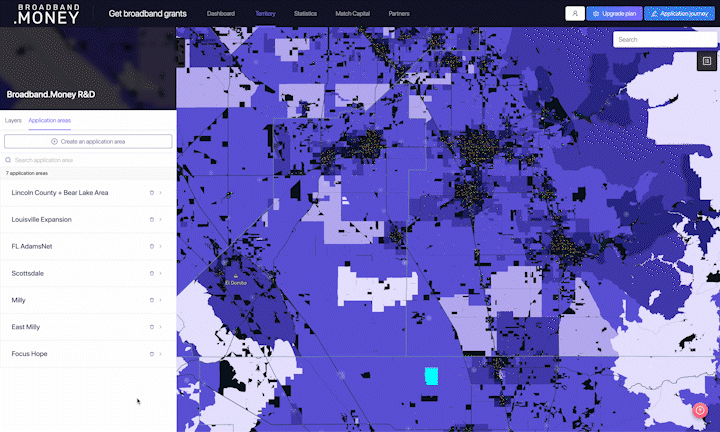 Community Broadband Kit
As part of the Broadband Audit, launch your own customized branded instance of the community broadband kit, a site which conducts multiple performance tests alongside a qualitative survey to get the ground reality of community broadband needs.
Before starting, test-takers are prompted to make sure their testing environment adheres to the guidelines written by trusted industry experts.
While the suite of performance tests run, test-takers are prompted to answer survey questions to help to get a better understanding of broadband availability and need, outside of performance measurements.
The community broadband kit compares results across different kinds of tests and reminds test-takers to retake the test multiple times for better accuracy.
The compiled results should show local leaders and others an aggregate picture of the number of served, unserved and underserved locations in their relevant geographic areas, along with other relevant demographic and institutional information.
Community Broadband Analysis
Using Broadband.money's built-in distribution tools, community IT admins can easily and efficiently encourage communities to take the test. As the results come in, gain a real time holistic understanding of your community's level of need for broadband grants.